Avec la fin de l'ère New 52 / DC You (guide de lecture complet ici), l'univers DC rentre dans l'ère Rebirth. Un nouveau départ en quelque sorte, avec une nouvelle équipe créative prenant en charge le Chevalier Noir. Batman subit un reboot, et ses aventures sont à suivre dans Batman et dans Detective Comics. Comme toujours, il y a d'autres séries Batman concomitantes durant toute la période Rebirth: All-Star Batman, Batman and the Outsiders, et des événements majeurs comme Dark Nights : Metal (et Death Metal), The Joker War …
Quoi lire avant Batman Rebirth ?
Vous pouvez bien sûr lire les aventures de Batman New 52 mais ce n'est pas obligatoire puisque Rebirth vous offre un reboot complet !
Batman Rebirth: Le Guide de Lecture
>> Batman: La Nuit des Monstres
>> DC Universe Rebirth: Le Badge
>> Batman T.05
C'est à ce moment-là que débute la série Super Sons, avec une équipe composée de Damian Wayne et Jon Kent.
__________
>> Batman: Metal
Alerte gros événement obligatoire à lire ! Au-delà de notre univers, il y a le Multivers ... et sous le Multivers se trouve un royaume de cauchemar où toutes les peurs qui ont jamais été ressenties sur notre Terre deviennent réalité. Une force maléfique aussi vieille que le temps veut nous entraîner dans l'ombre, dans le royaume de la terreur sans fin. Je ne peux que vous conseiller de passer faire un tour sur le guide dédié à Batman: Métal.
__________
>> Detective Comics T.07
La série solo Catwoman commence maintenant, pour plus d'informations, rendez vous sur le guide de lecture Catwoman.
>> Heroes in Crisis
Tom King nous fait découvrir un nouveau type de crise dans l'univers DC. Sanctuaire est un hôpital ultra-secret pour les super-héros traumatisés par la lutte contre le crime et le combat cosmique. Mais quelque chose tourne inexplicablement mal lorsque de nombreux patients meurent.
__________
>> Leviathan T.01 + Leviathan T.02
Leviathan est un crossover qui suit une équipe de détectives qui enquêtent sur l'infiltration et la destruction apparente de diverses agences de renseignement par le groupe connu sous le nom de Léviathan.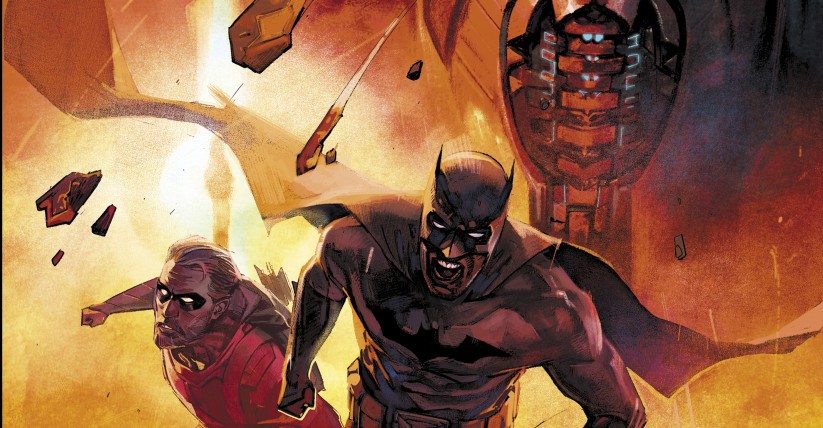 __________
>> Batman: Joker War T.01
Joker War nous amène au numéro #100 de la série Batman avec une histoire dans laquelle le Prince du crime et le Chevalier Noir s'affrontent pour la dernière fois.
>> Batman: Death Metal
La suite de Batman: Metal. Lorsque l'Univers DC est enveloppé par le Dark Multiverse, la Justice League est à la merci du Batman Qui Rit. L'humanité lutte pour survivre dans un paysage infernal tordu au-delà de toute reconnaissance, tandis que Batman, Wonder Woman et Superman sont séparés et doivent se battre pour survivre. Vous pouvez trouver l'ordre de lecture de Death Métal ici.